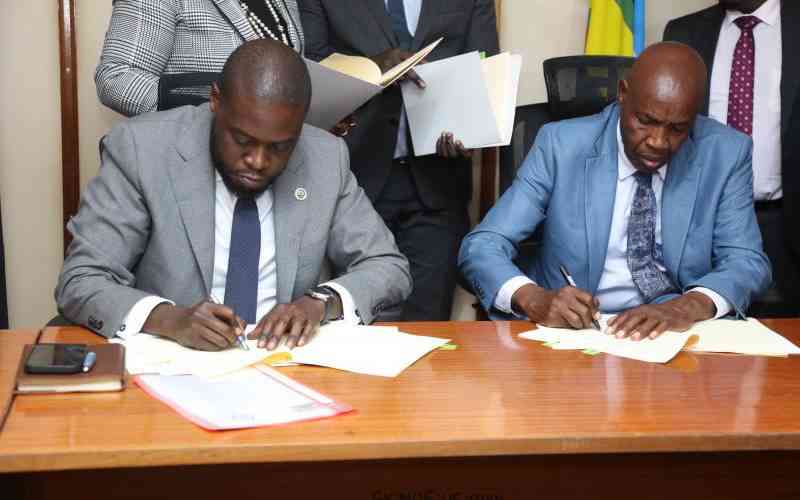 The Ministry of Education has partnered with the Nairobi City County Government to roll out a school feeding program.
Education Cabinet Secretary Ezekiel Machogu said that funding for the program will be shared equally for the next three years.
Governor Johnson Sakaja said the program will feed 250,000 children on normal school days.
"Our children get 650 grams of nutritious food per day and where we have been implementing it the children don't even finish the food, they take some of that food back home. Because many people don't realize that urban poverty many times bites harder than poverty in the rural areas," Sakaja said.
Sakaja said that so far enrollment of learners has gone up and school performance has also improved since the programme started.
Finance Cabinet Secretary Prof Njuguna Ndung'u presided over the signing of the deal between Machogu and Sakaja. Prof Ndung'u lauded the initiative.
"School meals program is a very important step in terms of improving our agriculture because that is where income will come from, improving nutrition outcomes and school attainment programs; that is where human capital development will come in," he said.
Machogu said the partnership was drafted by a technical committee formed by the Ministry of Education and the Nairobi County Government.
He said the team checked the legal instruments and ensured the document was in conformity and in compliance with the constitution.
Sajaka said that the intergovernmental partnership will transform lives in the country.
He said that so far, the construction of the kitchens across the city has created employment for 298 people which include women, youth and persons living with disability.
Sakaja added that going forward, once the program starts there will be 2,000 jobs created.
He said that the additional support from the National government will help expand the school feeding program.
Machogu said that the government has been facilitating the program in 26 Arid and Semi-Arid Lands (ASAL) counties over the years catering for about 1.9 million pupils in public primary schools.
Machogu said the national government and the County saw the need for the program because of the informal settlements in the city and also to support families that cannot afford a meal for their school going kids.
"We have a had an improvement not only in performance but also in making sure that the government policy on hundred per cent transition is achieved; because children are enrolled in school because there is food in school," Machogu said.