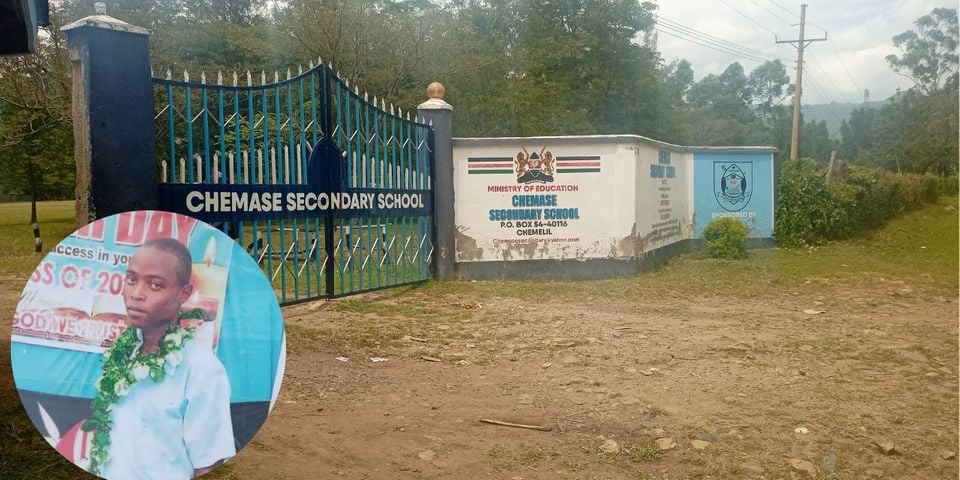 Chemase Secondary School in Tinderet sub-county, Nandi County has been closed indefinitely and students sent home after the death of a Form One student on Sunday.
Kelvin Kiptanui, 16 died on Sunday, two days after he was caned by his teachers for cheating on a test.
A crisis meeting is currently taking place in relation to the matter. Kiptanui was barely a week old at the school, having reported late due to school fees challenges.
Two teachers accused of caning the boy have since gone underground and tension remains high within the school community.
Kiptanui reported to Chemase Secondary School last week.
An incident report filed on Sunday at Chepswerta Police Post under Potopoto Police Station within Tinderet sub-county where the school is located, confirmed the incident.
The report said police officers from the police post visited the scene of crime and established through the Principal, Mr Martin Masika, that Kiptanui was subjected to corporal punishment by teachers.
The police report named the teachers as Alex Kipkirui and Vincent Kiplimo.
According to the police report, the student was caned on allegations that he was found cheating in a Physics test, together with another student on Friday.
However, the police report noted that the school management had indicated that the school didn't have any sickness report from the boy's guardians, and only learnt later that he had developed complications.
Kiptanui was first rushed to Chepsese dispensary by his two teachers, and then transferred to Nandi Hills Sub-County Hospital by medics in his mother's company for further medical attention.
A nurse on duty at Chepsese had said that they found he had suffered serious internal injuries and referred him to Nandi Hills Level Four Hospital where he died.
Before his passing, his mother, Monicah Jeropon, was called and Kiptanui is said to have recounted the ordeal when he regained consciousness at Chepsese dispensary. He alleged that the teachers who caned him stepped on him and kicked him in the stomach.
The boy is also said to have started bleeding at the school after the teachers beat him. His mother and a nurse that attended to him said he spoke with a lot of difficulties.
His mother was with him in hospital when he died.
No arrests have been made so far, although police have started an investigation into his death and the circumstances surrounding the incident that has puzzled many.
Nandi County Police Commander Joseph Kavoo said on Monday morning that investigators have been dispatched to the school and the child's home to help with the probe. This, he said, will help them determine whether the boy had any underlying medical conditions that could have been made worse by corporal punishment.
"Investigations are on to establish what happened and action will be taken accordingly," he said on Monday morning.
Tindiret OCPD Ali Jire explained that it was the boy's mother who reported his death to the police. By the time of going to press, the school's management was yet to officially report the matter to the police.
The school principal, Mr Martin Masika, had declined to comment on the incident when reached for comment but said the school had reported the death to the Ministry of Education which has taken up the matter.
Ms Jeropon said her son was in good health when he left home for school last week and had not complained of any sickness.
The single mum of four said he reported to school later than other students due to school fees challenges.
Nandi County Commissioner Herman Shiambi condemned the incident, saying no human being should die over a petty issue such as cheating in a quiz. He questioned why he was caned yet corporal punishment had been banned by the Kenya government.
Angry parents from Chemase have demanded justice.
Kimutai's body is lying at Nandi Hill mortuary awaiting a post-mortem, which will establish the cause of his death.