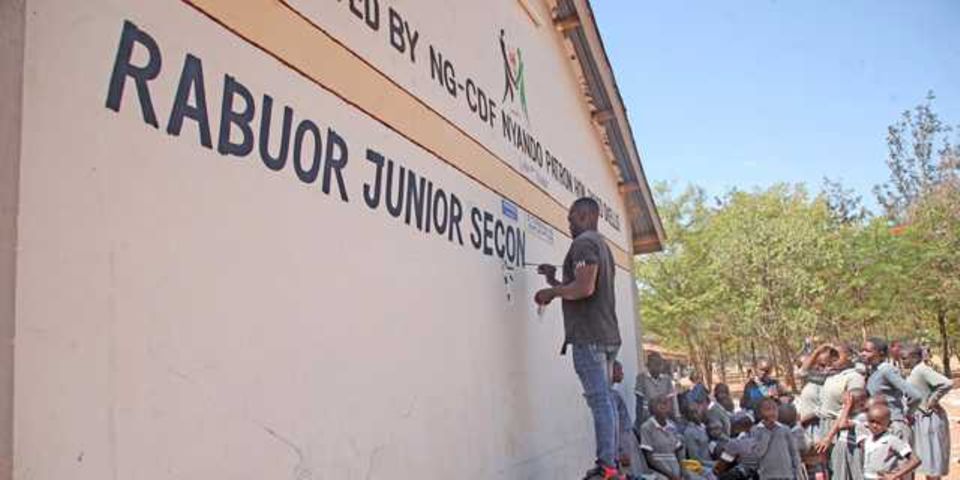 The government is investigating reports that some schools are registering Grade Seven learners to sit this year's Kenya Certificate of Primary Education (KCPE) examinations instead of allowing them to join junior secondary.
It has emerged that some parents, keen to have their children avoid junior secondary school (JSS) under the Competency Based Curriculum (CBC), are bribing headteachers to allow them to join Standard Eight and eventually sit this year's KCPE exam.
The Ministry of Education has ordered an investigation into the scandal that involves falsifying student records, including a unique personal identifier to eliminate the trace of progress in school and a birth certificate that is a prerequisite for registration.
These fake records are to facilitate the student being presented to a new school as a transferring Standard Eight candidate but the scheme is with the collusion of teachers.
Registration for the 2023 KCPE and Kenya Certificate of Secondary Education (KCSE) exams opened on February 1 and closes on March 30. Among the requirements for registering as a candidate are a birth certificate (because of the order of the names), Unique Personal identifiers (UPI), and a registration fee.
Education Cabinet Secretary Ezekiel Machogu has warned schools to validate the 2023 KCPE registration data and weed out Grade Seven learners who are being registered for the national test illegally.
Reports have surfaced about some headteachers, for instance, in Garissa, Wajir and Mandera counties, enriching themselves from the CBC transition by registering Grade Seven learners as KCPE candidates.
These would be the regions where infrastructural and staffing challenges could be plaguing the inaugural JSS class, although the full extent of the scandal will unravel once registration closes and the data points to an unexplained surge in the number of candidates compared to those that were in Standard Seven. Grade Seven learners are equivalent to the Standard Seven pupils in the 8-4-4 system.
Official data shows 1,253,577 Grade Seven learners are supposed to transit to JSS if the government's 100 per cent transition policy succeeds. But some parents want to dodge the CBC system, citing confusion and inadequate resourcing of JSS to escape this three-year stage that constitutes Grades Seven, Eight and Nine.
Some of them, who have managed to register their children as KCPE candidates, said they couldn't withstand the confusion and challenges the first cohort of JSS are enduring such as lack of adequate infrastructure and teachers in public schools, congestion, and a general lack of preparedness.
"My two children, who were to join Grade Seven, are now in class eight awaiting KCPE. I have enrolled them for tuition to cover Class Seven. I couldn't allow my children to go through this mess in CBC so I had to pay a school and a teacher to register my children as candidates," said a parent who showed Nation how she managed to beat the system.
However, she is worried she might eventually be caught during the data clean-up announced by the Ministry of Education which has gotten wind of the plot. A teacher explained if the Ministry of Education is determined to unearth illegal KCPE candidates, there is a way.
"It is easy. Grade Three pupils did an assessment and were given assessment numbers similar to the 8-4-4 index numbers. The government can weed out the illegal KCPE candidates by tracing these learners' progress. From assessment, the government can trace the progress of the learner. Every school has a record, for those in Grade Seven, the system automatically places them in Grade Seven," explained the Standard Eight teacher in Nairobi.
This is the route the government is taking to smoke out those who want to short-circuit the system. Mr Machogu said his ministry will not allow learners to sit exams whose curriculum is different from the CBC they were taught, adding, it is unfair for the Grade Seven learners to be registered for KCPE.
One source said Mr Machogu's directive was issued during a virtual meeting with regional coordinators of education, county directors of education and sub-county directors of education on Monday.
In the meeting, the CS urged the officials to file reports on the progress of enrolment of Grade Seven learners and asked them to list any challenges for the government to address.
In the document sent to regional and county directors of education, Dr Kipsang says there have been attempts by some primary schools in collusion with parents to register Grade Seven learners for KCPE.
The PS said the illegality involves the falsification of school records, learners' birth records and biodata of Grade Seven pupils.
He says there have also been attempts to obtain new birth certificates or change old ones by parents to aid in the malpractice and generation of new unique personal identifiers for continuing learners. This is to facilitate the scheme to present Grade Seven students as Standard Eight candidates and enrol them in other schools as new transfers.
"All field officers are asked to validate all registration data for 2023 KCPE and point out any abnormal increase in the KCPE candidature against 2022 class seven enrolment. Officers are also directed to liaise with the State Department for Citizen Services on issues of birth certificate issuance that are abnormal. Any school found to engage in such malpractice must be reported to this office for action," Dr Kipsang says in the letter dated February 13.
Sources revealed that the virtual meeting addressed wide-ranging issues on education. 
"The ministry will review the registration of KCPE learners. Sub-county directors of education have been directed to verify the candidates that are supposed to register for KCPE. If there will be double registration they will be deleted from the system immediately," another source who attended the meeting revealed. 
There is also a provision for registration as private candidates upon assessment that the candidate has attained a satisfactory level of competence to register for the KCPE examination.
There are several safeguards on the registration of exam candidates.
Headteachers sign a declaration form for registration entries committing that they have registered all candidates who have been learning in the school and are eligible for registration and that they have checked and confirmed that candidates' names are correct and that there are no duplications.
A registration return envelope also details a declaration by the head of the institution about the number of candidates uploaded on the Kenya National Examination Council (Knec) website in 2023.
The form is also countersigned by the sub-county director of education certifying that the entries as they appear in the Knec website are correct and in accordance with the examination rules and regulations. In the meeting, education stakeholders were urged to ensure a 100 per cent transition of learners from Grade Six last year to Grade Seven.
"The field education officials made sure that there was a 100 per cent transition of learners from Grade Six last year to Grade Seven. Work together with the officials and ensure that no child remains at home for whatever reason," said Mr Machogu. He also urged the education officials to furnish his office with names of schools charging illegal fees to parents.
"There is no payment of fees of any kind by parents, as the government allocation of Sh15,000 would meet all requirements of JSS. Learners should use the desks they would have used in Standard Seven in Grade Seven," said the CS.