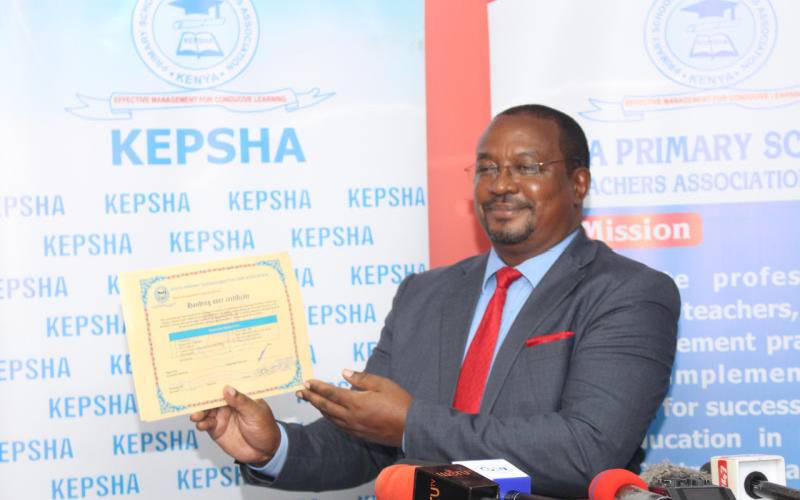 Primary school heads want their capitation increased to enable them implement Junior Secondary School (JSS) education.
Kenya Primary School Head Teachers Association (Kepsha) chairman Johnson Nzioka said yesterday they needed more funds, given the high cost of living, to carry out the education reforms.
He said they welcomed the domiciling of junior secondary in primary schools, but this comes with cost implication, and asked the government to provide additional resources by January to ensure smooth take off.
He was speaking during the 18th Kepsha conference at Sheikh Zayed Children Welfare Centre in Mombasa County.
The conference was also addressed by Mombasa Governor Abdulswamad Nassir, and the chief executive of Kenya Institute of Curriculum Development Charles Ong'ondo.
"It is a fact that public primary schools have been underfunded over the years. Therefore we expect that by the end of this conference we will hear an increase in funding through the capitation," he said.
But Prof Ong'ondo promised that government will supply books and curriculum designs for junior secondary school by January 23 next year.
Ong'ondo advised the primary school heads to supplement the materials from the government with local resources to enhance teaching under the Competency Based Curriculum (CBC).
"By January, we will supply all primary schools with books and curriculum designs. However, you should also use locally available resources to promote the curriculum. It is the policy of the government to ensure the one book per child ratio in public schools," he said.
Nassir promised to start a free lunch programme for all Early Childhood Development Education (ECDE) centres and issue bursaries to students.
He explained that he will raise funds for education from taxes on miraa businesses and other sources.
"I am going to start a free lunch programme for ECDEs across the county to boost learning," Nassir said.
He said he would also waive levies and penalties for schools whose businesses suffered during the Covid-19 pandemic.
The governor said he will also enter into agreements with various financial organisations to ensure that county government workers are paid by 26th or 27th of every month to end frequent industrial unrest.