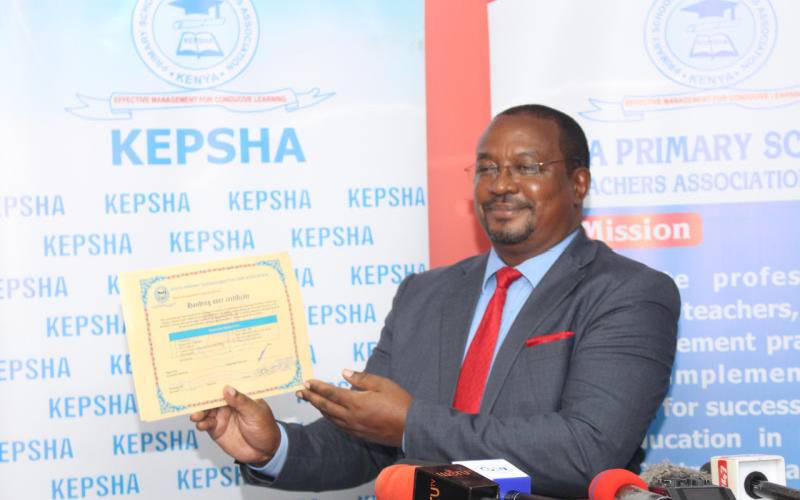 The 16th Kenya Primary Schools Head Teachers Association (KEPSHA) annual delegates' conference will be held on December 27 following the lifting and relaxation of Covid-19 containment measures.
KEPSHA chairman Johnson Nzioka on Friday said the heads will hold the meeting at Sheikh Zayed grounds in Mombasa.
Nzioka said the agenda will reveal later but other teachers said challenges facing the Competency-Based Curriculum (CBC) will be top on the agenda.
Nzioka said the date of the four-day event was reached during a meeting at KEPSHA headquarters in Nairobi.
"We are currently working on the programme, which will cover the four-day event and release as soon as possible," he said.
Nzioka said the event's theme is Headteachers: Leading in crisis, reimagining the future.
The 10,000 primary school heads usually attend the conference in the morning and spend the afternoon taking a walk on the sandy beaches, sightseeing and swimming in the Indian Ocean.
But their party was spoiled by Covid-19 last year, when the government stopped public gatherings and put restrictions on the movement of persons, including lockdowns to curb the spread of the pandemic.
Nzioka yesterday promised to issue details on how the conference will be held but assured the government that the forum will adhere to health protocols from the Ministry of Health.
The association held its last annual delegates conference in 2019 before the outbreak of the deadly disease.
More than 7,000 members of the Kenya Secondary School Heads Association (Kessha) also held their annual conference at the Kenya School of Revenue Administration (KSRA) located near the Sheikh Zayed centre.
For years, the secondary school heads have also been meeting in Mombasa to combine conferencing and holidaying. The teachers bring a business boom to book sellers, public transport and hotel operators in Mombasa city.