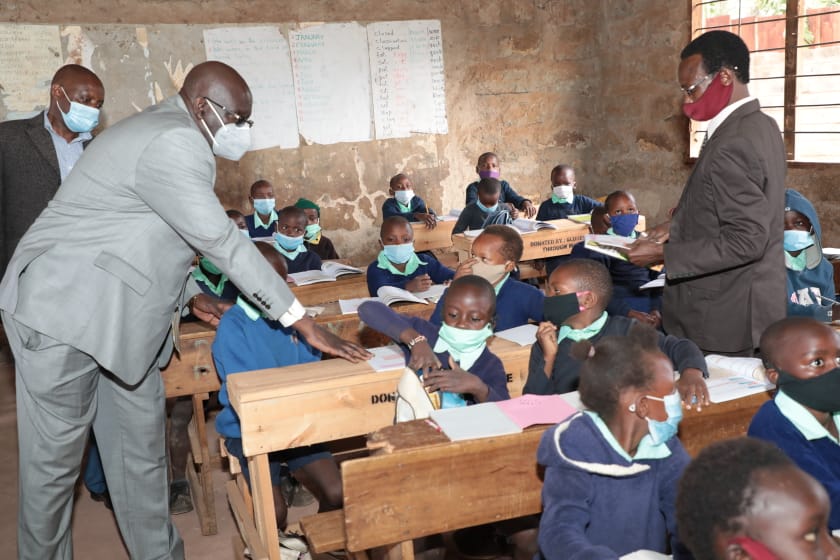 Chiefs will supervise the construction of 11,600 new classrooms in schools countrywide.
According to Education Cabinet Secretary George Magoha and Interior's Fred Matiang'i, the classes to be constructed in the first phase will accommodate learners transiting from primary to junior secondary schools.
Dr Matiang'i told officers to start preparing for the projects as the classrooms should be ready to accommodate learners by 2023.
"Start pushing teams in the sub-county to start preparations. This is not the time to start saying you are waiting for circulars. Rally the troops to start preparations early, because if we do not do that we shall fail," said Matiang'i.
He, at the same time, directed Regional Commissioners to take action against chiefs who fail to do what is expected of them.
This means every chief must spend a good amount of their time on projects supporting the contractors and coordinating them to ensure the projects move on smoothly," said Matiang'i.
Matiang'i also cautioned contractors against inflating the cost of projects. "It's not that we have a huge capital outlay to achieve this project. We are operating on a small budget. Cost-effectiveness is very important," he said.
Each of the classes will cost about Sh800,000 and the overall target is 20,000 of them.
These new classrooms will, however, be less, as the CBC task-force report projected that the government needs to create 37,000 new ones nationally to cater for the anticipated double intake of learners.
The Cabinet Secretaries were addressing a multi-agency team comprising Regional Commissioners, County Commissioners, Regional Director of Education, and County Director of Education from the 47 counties yesterday at Kenya School of Government in Lower Kabete, Nairobi.
President Uhuru Kenyatta has directed the National Treasury to release Sh8.1 billion for the project. "We have delivered before, so we are not reinventing the wheel. The government will do whatever it takes to ensure the officers deliver the projects by April," said Prof Magoha.
He instructed Education officers to identify contractors that are competent and have adequate manpower to do the work in a professional way.
The CS said contractors would be paid via mobile money to avoid giving the officers the burden of handling cash.
"Please make sure the contractors give the right personal information to avoid issues of delay in payment. During the desks project, we had a lot of delays. When you meet the contractors, ensure they are well briefed in such aspects so that we don't have problems in wiring the money because this may delay this project," he said.