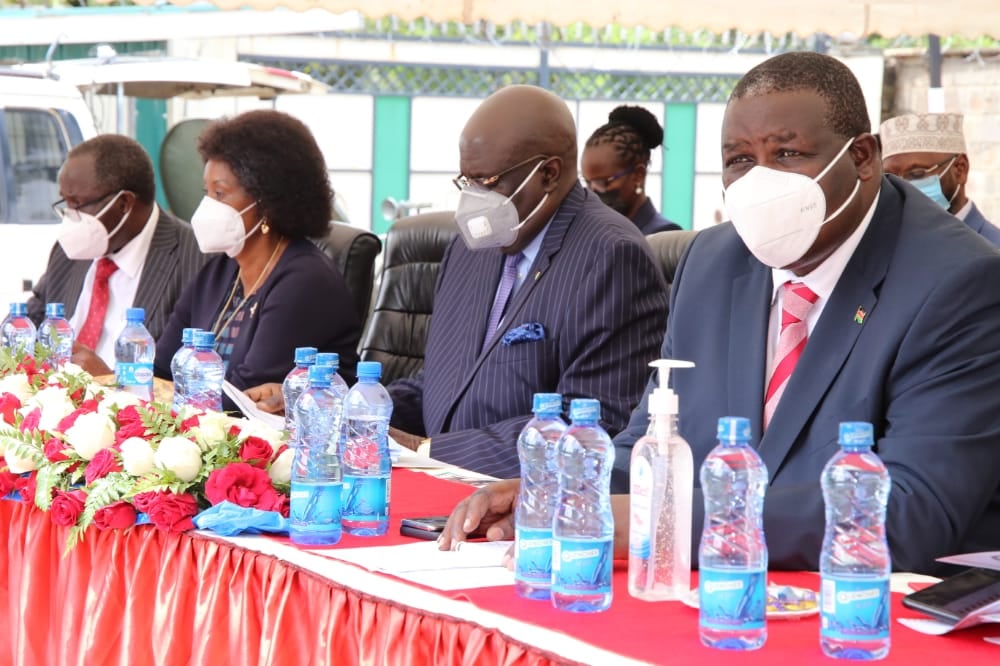 Education Cabinet Secretary George Magoha said no students will be denied admission. He says the government is committed to ensuring 100 per cent transition from primary to secondary schools is achieved.
Magoha spoke yesterday when he launched a mop-up operation to take children who sat last year's Kenya Certificate of Primary Education (KCPE) examination at the Coast to Form One.
"All children must report to school by Friday. The government has already dispatched the capitation grant to schools," he said.
Prof Magoha combed the sprawling Bangladesh and Kibarani slums in Jomvu, Mombasa, and picked up two children whom he ordered to be escorted to school by education officers.
Miss Nzole Hassan, who scored 355 marks, was taken from her parent's house in Bangladesh slums to join Mama Ngina Girls High School in Mombasa County.
She had been offered a slot at Moi Forces Secondary School in Mtongwe, Mombasa, but her parent was unable to raise the fees.
Her mother Fatuma Thoya said the government intervened when she had given up the struggle to raise fees for her daughter. "I thank the CS for taking my daughter to her new school," she said.
At the Kibarani slum, Prof Magoha picked Moses Wafula and ordered education officers to have him admitted at Shimo La Tewa Boys High School.
Wafula, who got 394 marks, had earned a place at Butula High School, but his parents lacked school fees.
His mother Naomi Sindani said they sought a scholarship at the Jomvu CDF and a commercial bank, but they were unsuccessful.
"We had decided that he would stay home. Last Sunday, the chief told us to wait for the minister, and we are happy our son is now in school," Sindani said. The two children got a government scholarship.
Yesterday, Magoha said the Coast region had recorded the lowest rate of transition to secondary school at 60 per cent compared to the average 80 per cent nationally.
The CS directed Education officers led by the Regional Education Officer Hassan Duale to work with their counterparts in the Ministry of Interior to ensure all pupils are admitted in schools.
He blamed the Covid-19 pandemic as part of the reason the children failed to report to school. The CS said the government set aside Sh1.8 billion for school feeding programmes.
The CS took education officers and the Jomvu CDF officials to task for failing to get more than 500 children to school. "I will have to come back to this area because things appear to be in disarray here," he said.
Prof Magoha said many children who sat the 2020 KCPE had not reported to school in Mombasa, Kilifi, Kwale, Tana River, Lamu and Taita Taveta counties and should be sought from their homes. He told education officers to inspect schools and ensure they comply with all safety regulations.