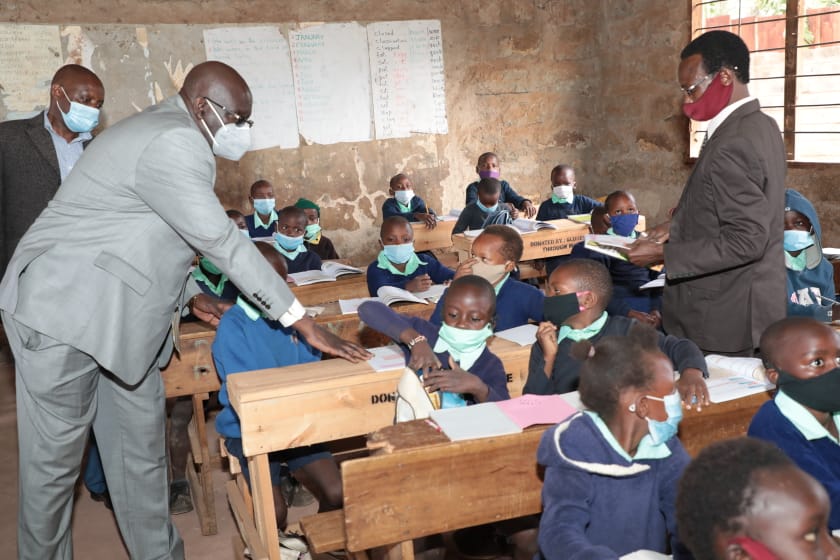 The Salvation Army Church wants the government to investigate reports the Ministry of Education may have disbursed Sh3.7 billion non-existent schools.
The Salvation Army is a Christian church that also doubles up as an international charitable organisation.
The church's Kenya West Territorial commander Stephen Chepkurui, who spoke during the commissioning of new classrooms at Makhwabuye Primary School in Kakamega on Thursday, called for an audit to establish if indeed ministry officials disbursed money to bogus secondary schools.
The church constructed the classrooms, toilets, sunk boreholes and bought desks and lockers for learners at Makhwabuye and other schools in the region.
Many buildings in the school had been condemned after they developed cracks, especially due to the blasting of rocks in nearby quarries.
Chepkurui also urged the government to take measures to contain mushrooming of schools some of which, he said, have been violating laws.
"The government must develop policies to ensure all loopholes used to steal public funds are sealed. They should also control the establishment of schools to ensure only those that meet standards are allowed to operate," he said.
He added: "All education stakeholders, including parents and sponsors of the various schools, must join hands to ensure money meant for the development of schools is used for intended purposes. We need to know how billions, in taxpayers' money, was given to non-existent schools."
The alleged loss was also captured in the latest report by Auditor General Nancy Gathangu released on Wednesday.
The report also indicated that there was inflation of student numbers and the creation of ghost schools by people, reportedly working in cahoots with some wayward education officials, to steal public funds. 
Double payments were also made to some schools in the larger plot to siphon taxpayers' money, the report said.
Meanwhile, Chepkurui also urged the government to relax Covid-19 containment measures and allow worshipers to attend church.
Also present during the event were Kabras West Curriculum Support Officer Stephen Mululu and Malava township chief Nechesa Luvale.