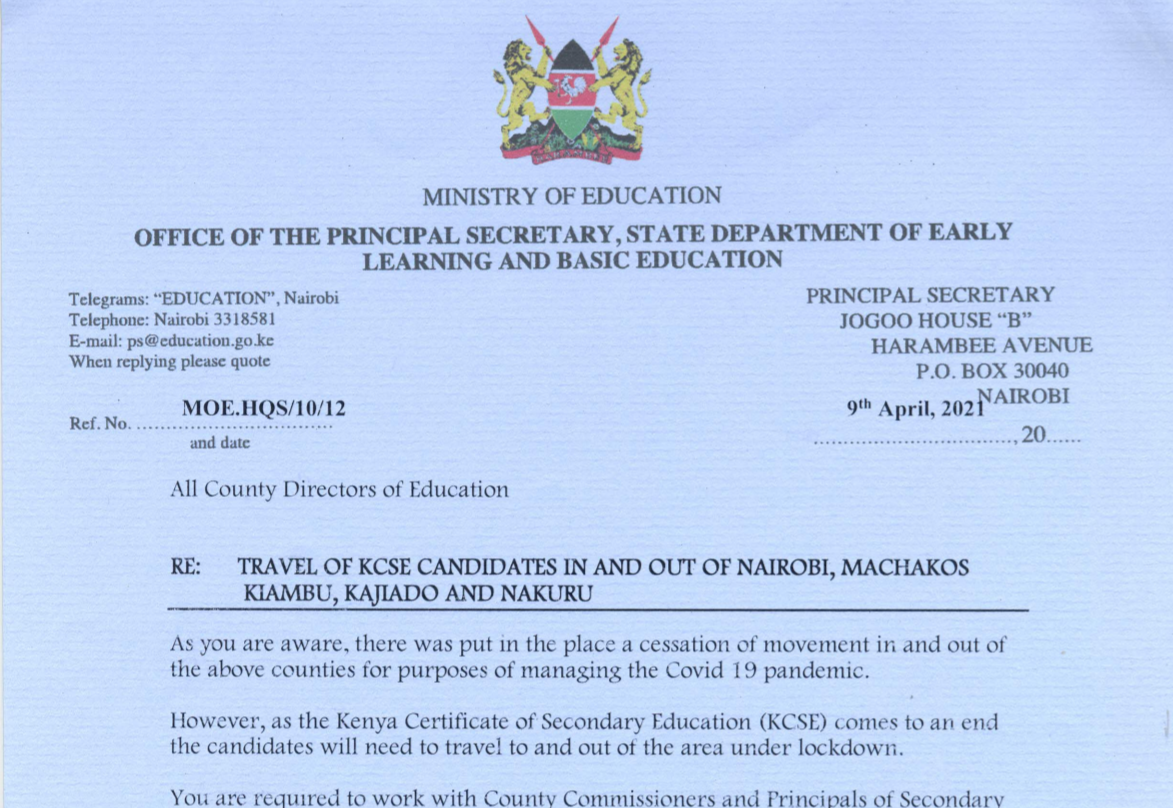 Ministry of Education through the Principal Secretary in charge of Early Learning and Basic Education, Dr. Julius Jwan, has issued elaborate guidelines to all County Directors of Education on how Form Four students will travel in and out of the locked-down counties after KCSE exams.
In a circular dated Friday, April 9, the county directors were directed to work with County Commissioners and Principals of Secondary schools to ensure that the travel of the Kenya Certificate of Secondary Education (KCSE) candidates was facilitated.
Schools have also been directed to organize with transport companies so that students are picked from school after the exams.
In addition, schools have been directed to ensure that students travelling home are in school uniform and that they have letters of introduction from the school.
Finally, schools have been instructed to communicate with parents about all the transport arrangements that will be held.
Due to the increasing number of Covid-19 cases in the country, President Uhuru Kenyatta on March 26, put in place cessation of movement in and out of Nairobi, Machakos, Kiambu, Nakuru and Kijiado counties in order to manage the spread of the virus.
Below is the circular with the transport guidelines for KCSE candidates.
All County Directors of Education
RE: TRAVEL OF KCSE CANDIDATES IN AND OUT OF NAIROBI, MACHAKOS KIAMBU, KAJIADO AND NAKURU
As you are aware, there was put in the place a cessation of movement in and out of the above counties for purposes of managing the Covid 19 pandemic.
However, as the Kenya Certificate of Secondary Education (KCSE) comes to an end the candidates will need to travel to and out of the area under lockdown.
You are requred to work with County Commissioners an Principals of Secondary Schools to ensure that the candidates are facilitated to travel. Schools should:
i. Organize with transport companies to have the students picked from Schools.
ii. Ensure those travelling are in school uniform and have letters of introduction from the school.
iii. Communicate to the parents of the students on the transport arrangements made.
Kindly bring this to the attention of al] public and private secondary schools offering KCSE Exams.
Julius O. Jwan, PhD, MBS
PRINCIPAL SECRETARY
Due to the President's directive, many were confused as to how KCSE candidates who had just started their exams would get home.
"In respect to education in Kenya there shall be immediate suspension of all on-going physical learning in all our institutions including universities, tertiary and vocational colleges, other than for candidates sitting for the examinations and those in medical institutions, until otherwise notified," Kenyatta said in a televised speech.
The KCSE exams which began on March 26 have, however, have not been all smooth as expected by many Kenyans.
On April 2, all candidates except for one were placed under investigation on allegations of exam leakage at a Nyamira examination centre.
Reports indicate that a student received the chemistry theory questions on WhatsApp, crafted the answers and then shared with the rest of the KCSE students before the exam started.
Following the increase in exam leakage accusations, Education Cabinet Secretary (CS), George Magoha assured Kenyans that all measures had been put in place to curb cheating and that there was no need for alarm.