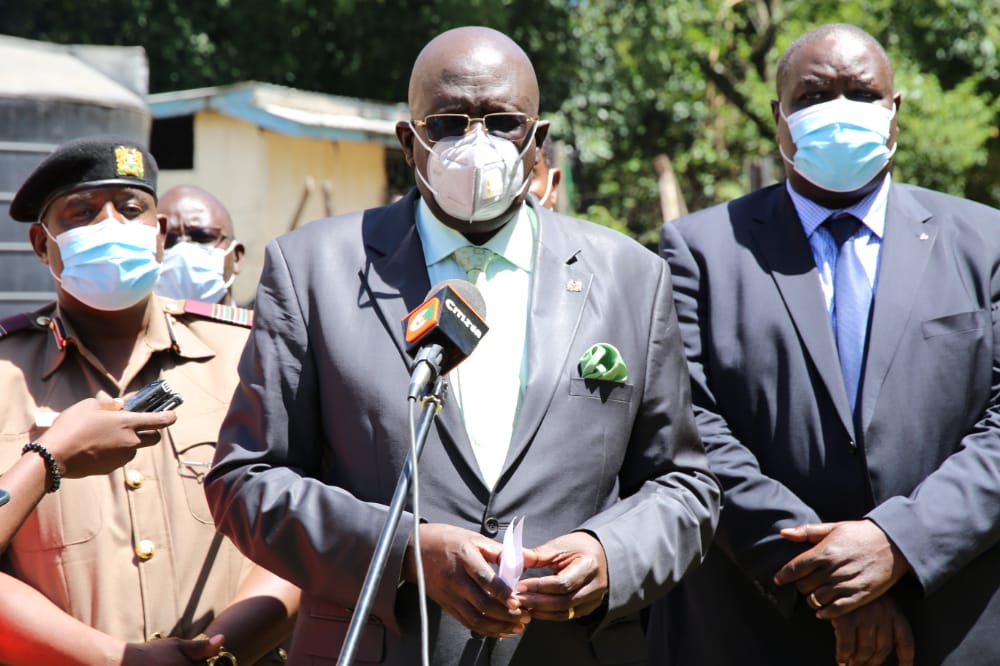 The Ministry of Education has said schools will only get funds based on the number of pupils registered on National Education Management Information System (NEMIS) portal starting next term.
In a circular dated 10th March the Principal Secretary Education, Julius Jwan, said Ministry will not use the manual enrollment record of learners which has been in place since 2003 because its prone to errors and that schools to ensure learners are captured on Nemis platform by 30th March.
Jwan said the Directorate of Primary Education intends to change the mode of FPE disbursement to Nemis system with effect from April 2021.
This means schools have till the end of this term to ensure learners are captured on Nemis or miss disbursement when Ministry releases funds to schools next term.
The Principal Secretary further warned school heads that they are solely responsible for the data captured on Nemis.
"Headteachers are responsible for any data regarding their school, this minimises chances of human error and any changes and any changes required are made by the headteacher thus ensuring continous update of data," said Jwan.
This is the second attempt to change mode of funding schools based on Nemis after a similar attempt failed in 2019.
This is after a similar announcement was revoked after it was found out many primary schools had not captured learners on Nemis.
The headteachers had said the time frame was too little and that the process of getting birth certificates for the learners was hectic.
This announcement comes after Education Cabinet Secretary George Magoha announced that primary and secondary schools will receive Sh15 billion capitation this week to prepare for KCPE, KCSE exams.
He said the money will cover the balances that principals said were source of financial crisis that could threaten administration of national exams.
"We shall release the money next week to schools and therefore no one should try to cause panic or anxiety," said Prof Magoha on Thursday 4th.
The announcement is a huge relief to 7,000 secondary school heads who two weeks ago indicated that they may not adequately prepare for the administration of KCPE and KCSE examinations if the cash is not disbursed.
The Ministry of Education released Sh14.6 billion to fund secondary schools and another Sh4.6 billion for primary institutions when schools reopened in January.
The school heads accused the government of withholding huge sums of money, noting it could plunge schools into further crises.
The ministry, however, said the money released was only 25 per cent of the total amount that should be sent to schools during the First Term.
The government's financing model of free education is spread in a 50:30:20 ratio meaning that half the money is sent during the First Term, 30 per cent in the Second Term and the balance released in Third Term.
The school managers said that the delayed release of the capitation balance by the government was frustrating the purchase of chemicals for practicals and apparatus for science subjects.
Kenya Secondary School Heads Association chair Kahi Indimuli said any further delay would see thousands of Form Four candidates not sit practical exams.
"As we speak, schools do not have money. The government promised to release the final tranche of 25 per cent by the end of February," Indimuli said last week.
Indimuli yesterday welcomed the announcement and hoped the money will be wired without fail.
He said preparations for Biology, Physics and Chemistry papers may not be adequate if the government fails to release the money in time.
Indimuli said some schools do not even have critical apparatus that is needed during examinations while some may need the money for minor repairs in laboratories ahead of the examinations.
Some 1,088,986 candidates will sit KCPE exams from March 22 to 24 while another 699,745 will sit KCSE exams which start on March 25.